COMMON SEO MISTAKES (AND HOW TO CORRECT THEM)
Search engine marketing is very vast domain and thus a near-constant flux. Google has changed many algorithms and most recently in March 2019 to provide its users the support they are looking for. That means the SEO tricks also need an up gradation.
We understand that SEO is constantly changing field but still you can make out some mistakes that companies make. It is better to recognize them and correct them before it's' too late. We have listed down the most common mistake that can ruin your SEO efforts. So keep in mind to correct them and avoid it in the future.
1. A Lack Of High-Level Understanding
You need to understand the fact that good SEO needs a solid website structure. All this includes quality content that is optimized (on-page SEO). To grow the authority of your website overtime don't forget to create high-quality backlinks.
Don't miss out any of these otherwise it would be much harder to move the needle and it might not happen at all. Keep yourself educated with the latest developments to stay in the market.
2. Keyword Stuffing
The thing which has really brought many websites down is Keyword stuffing. It means you are simply adding these words to your page and you don't have any context to it. Always remember it is the technique which works no more.
In fact, it creates bad impression for your website and Google might even spam your website. You need to conduct proper research and select the correct keywords and make them appear at the right time.
Do read our blog about our favorite keyword research tools. This would definitely help you select the most appropriate tool according to your terms. We have listed both paid and free research tools.

3. Treating SEO As An Add-On
You just can't depend on OFF-site SEO completely. This trick will definitely lead you towards the foundational website problems that will impact your performance negatively. What you should do instead?
You should focus on holistic SEO approach as it has some really great long- term benefits. It not only saves you time but also improve your website performance as you will have a strong foundation to continue to build on.
If you are looking to employ someone else for doing SEO for your website do have a look at WEBAION TECHNOLOGIES services and what all they do in SEO services.
4. Optimizing For Traffic Rather Than Conversions
SEO is a way to generate traffic and that's what you should focus on rather than the conversions. What you should do instead is focus on what keyword phrases are converting.
You also need to pay attention to what not that's the way to increase your conversion rates. Accordingly, you can make changes in your SEO efforts so that your traffic leads to conversions.
5. Forgetting The Back End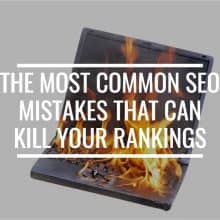 We know and admit that content is everything you might have spent hours writing the perfect and engaging text. But all this can be waste because if your page is not optimized properly you won't be able to generate any leads.
Yes, Google might just not be able to pick up the keywords that you worked for so hard. Prepare a checklist for title, slug, meta description and alt-image text before you publish your content. And think from the user point of view.